Bruker S1 TITAN Series Handheld XRF Analyzers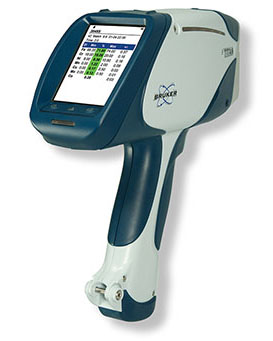 The S1 TITAN Series XRF Analyzers are designed to quickly and accurately report the elemental analysis of a sample. Whether to analyze large machined parts, children's toys, or small jewelry, the S1 TITANs will deliver fast and accurate results. The ergonomic pistol grip and trigger are designed for all-day use. The color touchscreen LCD is easily seen in all lighting conditions. Weighing just 1.5 kg (3.3 lbs.), S1 TITANs are among the lightest tube-based XRF analyzers on the market.
Designed as "point and shoot" analyzers, S1 TITANs requires minimal setup and operator training. Equipped with both user-level and supervisor-level access, a manager can choose to grant basic operator control or full functionality. This two tier approach and intuitive interface make S1 TITANs perfect for both beginning users, as well as experienced users.
Call 1.800.833.7958
Bruker S1 TITAN Specifications
Bruker S1 TITAN User Manual
Bruker S1 TITAN QuickStart
Bruker X-Ray Radiation Safety Manual
Periodic Table of Elements and X-ray Energies
Bruker TRACER 5i
Handheld XRF Analyzer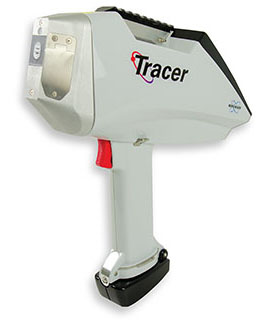 Bruker's TRACER 5i synchronizes power, function, precision and accuracy to provide dynamic, field capable elemental analysis from everyday point-and-shoot testing to the ever-changing challenges and complexities of advanced applications and research.
The TRACER 5i has the ability to use an air, vacuum or helium beam path and to interactively control power, filters, collimators and atmosphere, along with comprehensive data analysis capabilities to provide the ultimate in on-site interaction for faster analysis at lower LODs — especially for light elements like sodium. The analytical software for complex materials are part of the TRACER's comprehensive software features, but has a more streamlined workflow with EasyCal software to provide simple correlation fits for standard materials.
Call 1.800.833.7958
Bruker TRACER 5i Specifications
Bruker TRACER 5i User Manual
Bruker TRACER 5i QuickStart
Bruker X-Ray Radiation Safety Manual
Periodic Table of Elements and X-ray Energies
Heuresis Pb200i Handheld XRF
Lead Paint Analyzer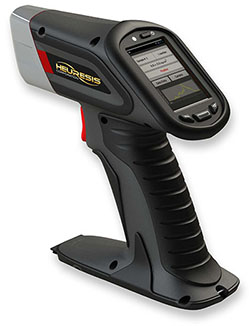 The Heuresis Pb200i Handheld XRF for lead paint inspection is a significant advancement in XRF technology. A combination of innovative engineering, intuitive operation and the fact that it is the lightest XRF in the world, position the Pb200i in an entirely different league than what has previously been available to detect lead paint.
Geotech has been selected to be the exclusive representative for the Heuresis Pb200i handheld XRF for lead paint in AZ, ID, NM, WA, FL, CA, MT, OR, WY, GA, CO, NV, UT, TX, HI, AK.
Call 1.800.833.7958
Heuresis Pb200i Specifications
Heuresis Pb200i User Guide
Heuresis Pb200i Performance Sheet
What is a Performance Sheet?
Heuresis Pb200i Drop Test Video